Preventative Dental Care
Creating Stronger Smiles in Ormeau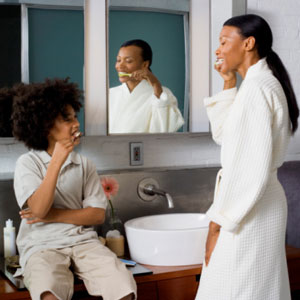 Because the majority of oral health problems are preventable, we incorporate therapeutic and prevention-based strategies that equip your family with the resources necessary to avoid unnecessary treatment later on.
Seeing our dentists on a routine basis allows us to carefully monitor your mouth for signs of unhealthy developments, such as gum disease or weakening enamel. For most healthy individuals, we recommend these visits every six months.
During most preventative checkups, we will provide necessary services such as:
A Comprehensive Examination — As we check for changes in your teeth, we'll also assess the integrity of your restorations (crowns, fillings, etc.) to ensure everything is holding up properly.
Diagnostic Imaging — Digital X-rays make it possible to screen for dental disease and tooth decay below the surface of what's visible during your exam. These safe and efficient images help us to diagnose conditions before they have a chance to evolve into something more complex.
Clean and Polish — We'll gently lift away stains and tartar deposits that have accumulated since your last dental clean, including those in hard-to-reach areas between your teeth and just under the gumlines.
Oral Cancer Exam — Sun exposure, viruses, tobacco and alcohol are all risk factors for this deadly disease. Early diagnosis is the most crucial aspect of successful treatment. Because oral cancer is sometimes found in healthy individuals, we will screen for symptoms even if you do not smoke or drink.
Screening for Periodontal Disease — The health of your gums is vital when it comes to the overall integrity of your smile. Measuring where the gums and bone attach to your teeth allows us to intercept the risk of tooth loss before it occurs.
Fissure Sealants and Fluoride — These two preventative services minimise the risk of decay in cavity-prone areas and weak enamel. Fluoride is useful for patients of all ages who tend to have sensitive teeth or recurrent cavities, while sealants are most appropriate for newly erupted permanent teeth.
Promoting Healthy Teeth
Has it been six months or more since your last check and clean? Book your family's next visit with our in-network dentist today!

Preventive Dental Care Ormeau, Pimpama, Yatala, Jacobs Well QLD | (07) 5540 7111